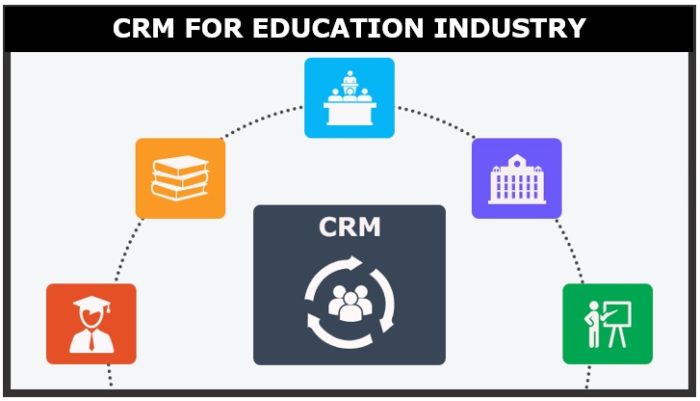 Great education isn't just about providing quality teaching and learning experiences in today's ever-evolving educational landscape. It also extends to building long-lasting relationships with students, parents, staff, and stakeholders to create a thriving learning environment. That's where Customer Relationship Management (CRM) systems come in –a powerful tool for ensuring high student engagement, retention rates, and financial growth for institutes.
As such, this quick guide to CRM for the education industry in India will explore how institutes can streamline their operations by leveraging this part of technology, all the while improving customer communication and driving growth.
What is CRM for Educational Industry?
In the education sector, CRM (Customer Relationship Management), is a process or tool that helps institutions manage student data and interactions throughout their schooling years. By tracking and managing data related to students, educators provide a more personalized and holistic approach to education.
CRM for education industry typically include features such as contact management, lead management, admissions management, and alums relations. Some systems may also offer features specific to the needs of educators, such as grade book integration or learning management system (LMS) integration.
Education CRM can help overcome such challenges and open new opportunities by providing a central repository for all data related to their operations. It can also help automate processes and workflows, thus reducing errors and increasing efficiency.
Features of an Education CRM
Educational CRMs include a wide range of features that can be customized to meet the needs of any educational institution. Here are some of the key features of an Education/Higher education/EdTech CRM:
Student and parent portals: Allows students and parents to access important information about their child's education, including grades, attendance, and homework assignments.

Automated communication: Automates email and SMS communications with students, parents, and staff. This can save a lot of time and improve communication efficiency.

Classroom management: Helps teachers track student progress and performance. It can also be used to schedule classes and manage class resources.

Finance management: Helps schools track payments from parents and manage their budget more effectively.

Reporting: Generates reports on student performance, staff productivity, finances, etc. This information can be used to make informed decisions about the school's future.
Benefits of CRM for the Education Industry
A CRM can help educational institutions keep track of their relationships with current and prospective students and manage their communications and marketing efforts.
Some benefits of using a CRM system for the education industry include:
Improved communication with students and parents: Education CRM can help educational institutions keep track of communication with students and parents, ensuring that important information is not missed. A Sales CRM system can also automate communications, such as appointment reminders or class updates.

Increased visibility into student data: A higher education CRM can help educators track student data, including contact information, academic progress, and extracurricular activities. This data can be used to identify trends and areas of improvement.

Improved marketing efforts: An EdTech CRM can help educational institutions segment their audiences and target their marketing efforts more effectively. A CRM system can also automate some marketing tasks, such as email campaigns or social media posts.

Greater efficiency in operations: CRM for education industry system can automate many tasks related to admissions, registration, scheduling, and billing. This can free up staff time to focus on more important tasks. A CRM system can also help streamline processes across different departments within an educational institution.
How to Choose an Educational CRM?
The education industry in India is proliferating, and many educational CRM providers are in the market. So, how does an educational institute choose the right one? Here are a few things to consider:
Scalability: As the institute grows, it will need a CRM that can scale up with progress. Thus, institute must choose a CRM that offers a scalable solution.

Integration: The CRM should be able to integrate with the existing systems and processes. This will make it easier for institutes to implement and use.

Support: Choosing a provider who offers good customer support. This is important if schools face any difficulties while using the CRM.

Pricing: Comparing the prices of different CRM providers and choosing one that fits the budget.
After all the consideration of the above-mentioned points, stakeholders can start looking at different CRMs available in the market. Some popular options include Kylas, HubSpot, ZohoCRM, Freshsales, and more. It is advisable to take some time to research and take trials before investing in one.
Conclusion:
CRM for education industry in India is an extremely useful tool to help educational institutions manage their day-to-day operations. With the right resources and guidance, these tools can improve customer service, increase efficiency, and reduce costs. With this guide as the starting point, educational institutes are better equipped to choose the education CRM for their specific needs.